Professional Results ...
PureVision provides you with a quick and easy way to create and manage forms while designing professional commercial applications using the PureBasic programming language.
Not only can you manage entire projects, PureVision allows you to export individual Forms from large projects and merge them with other projects. By reusing exisiting forms, this saves you both time and money.
PureVision comes complete with tools for giving your projects that "competitive edge". Add icons to MenuBars, create custom Skins for your Forms, design custom Pointers, manage Language Files for multilingual support and much more !!!
Have even more power at your fingertips by accessing PVGadgets, a custom library designed specifically for those wanting more out of their application.
PureVision is the choice of professionals and is used to design and create high end commercial software on a daily basis.
When you have PureVision, you have Pure Power !!
Now Available!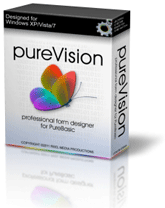 MINIMUM SYSTEM REQUIREMENTS:
Microsoft Windows x64
1 GHz Pentium Class CPU
2 GB RAM
50 MB Free Disk Space
1280 x 800 Display
Optional Internet connection for online version checking allows you to always have up-to-date software.