Quick, Secure Online Ordering:
Orders are processed on a secure site and a registration key is emailed to the address provided usually within 24 hours.

Purchase PureVision
for only $27.95 US
If you are already a Registered PureVision User and would like to add the SpiderBasic Export Module for only $9.95 simply select Help from the PureVision Main MenuBar and choose Purchase Module.

PureVision + SpiderBasic Export Module
for only $35.95 US
Germany & Euro Zone Customers:
Customers from Germany and other Euro Zones can take advantage of even Greater Savings and order PureVision from German PureBasic Team Member and Reseller...
Click Here!
Note: All software sales are final and non-refundable once a registration key has been issued.
Register Now: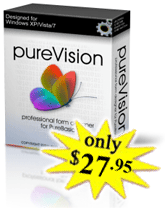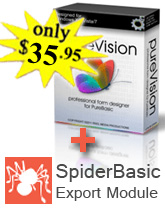 The Demo version is converted into a full version once a registration key has been puchased, so no additional downloads are required !!

All Future 6.x upgrades are FREE with purchase !!

Purchasing a registration key allows you to install and use this product on any number of computer systems that you personally own and operate.